Coming Home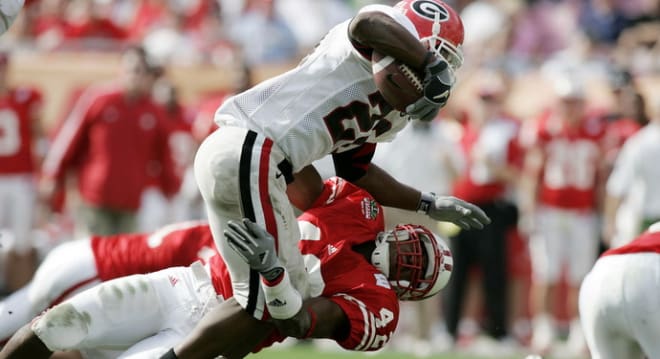 To coincide the move, assistant Bryan McClendon will now slide over and coach the wide receivers.
"Yes sir!," said Brown, when contacted by UGASports.com.
Head coach Mark Richt seemed just as excited.
"These moves with two former Georgia teammates will add a great dimension to our offensive coaching staff," Richt said in a statement. "It brings back a great Bulldog running back in Thomas who has NFL playing experience and has had success as a college coach at multiple schools. He also inherits a position that has been built to an elite level by Bryan. And it gives Bryan the opportunity to return to coaching the position he played and the one where he cut his teeth serving as a graduate assistant under wide receiver coach John Eason here at UGA. It also provides him with a new experience as passing game coordinator."
Alabama commit and Bulldog target Demetrius Robertson apparently liked the news.
"Man, those are some smart moves right there," Robertson told UGASports.com.
The announcement caps what's been at crazy day at the Butts-Mehre Building.
Earlier, UGASports confirmed an earlier report by the AJC that Stanford assistant Lance Taylor
was offered and initially accepted the job left vacated by Tony Ball leaving for LSU.
But according to the paper, Taylor changed his mind.
This apparently opened the door for Brown.
A former Bulldog running back, Brown starred for Georgia from 2004 to 2007 and
currently stands as Georgia's fifth-leading rusher with 2,646 yards.
backs, including Heisman Trophy finalists and All-American Melvin Gordon.
The Badgers posted two of the top rushing performance in the country in 2014 with a school-record 644 rushing yards against Bowling Green and 581 vs. Nebraska, and their average of 6.91 yards per rushing attempt ranks as the fourth-best mark in FBS history.
Prior to joining the Wisconsin staff, Brown served as the running backs coach at Marshall in 2013 and at UT Chattanooga in 2012. He spent the 2011 season as an assistant strength and conditioning coach at Georgia.
A native of Tucker, Brown starred at Tucker High School before enrolling at Georgia and helping the Bulldogs to the 2005 Southeastern Conference championship. He finished his career as the fifth-leading rushing in Georgia history with 2,646 career yards and led the Bulldogs in rushing in 2005 and 2005. For his career, Brown averaged 5.0 yards per carry and scored 25 touchdowns. He was elected by his teammates as the permanent offensive team captain in 2007.