Breakdown: ULM at Georgia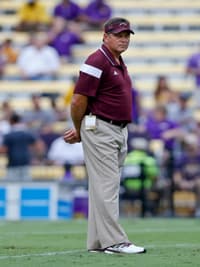 What: Louisiana at Monroe (0-0) vs. No. 9 Georgia (0-0)
Where: Sanford Stadium
When: Saturday, Noon
TV/Radio: SEC Network (Dave Neal, Matt Stinchcomb, Kayce Smith). Georgia Bulldog
Sports Network (Scott Howard, Eric Zeier, Chuck Dowdle); Sirius 113/XM 191
It's year 15 for head coach Mark Richt, whose Bulldogs open the season against
the visiting Warhawks from the Sun Belt Conference. This actually marks the
third meeting between the two Universities, including a 70-6 victory by the
Bulldogs in 1994 when ULM was known as Northeastern Louisiana.
UGA OFFENSE vs. ULM DEFENSE
All eyes will be on Georgia's offense for Saturday's game for a couple of
reasons. First, not only does it mark Brian Schottenheimer's debut as the
Bulldogs' offensive coordinator, but also that of new starting quarterback
Greyson Lambert who this time a year ago was getting ready to start the opener
for Virginia.
Of course, sophomore running back Nick Chubb will no doubt receive his share of
attention, too. For those counting (and we're sure you are), Chubb's eight
previous starts have resulted in games of at least 100 yards, a streak he'll
obviously be looking to extend against ULM.
Chubb won't be the only Bulldog back looking to get off to a good start. Fellow
sophomore Sony Michel enjoyed a sterling camp for Georgia after getting himself
in tremendous shape over the summer. Prior to his shoulder injury last year
against Tennessee, the Bulldogs would use Michel in a number of ways on offense
and special teams. Look for more of that this fall. Saturday will also mark the
return of Keith Marshall, who played in only three games last year. But after
shedding approximately 15 pounds, Marshall is back to his freshman weight of
210-212 pounds. It's going to be interesting to see if he also regained his
form.
At wide receiver, senior Malcolm Mitchell claims he's in the best shape of his
life and he'll need to be as the Bulldogs' wide receiving corps doesn't have a
lot of experience, although there is some young talent in the wings. Topping that list is freshman Terry Godwin, who has garnered raves from teammates for catching virtually every ball that comes his way.
Fellow freshman Michael Chigbu has also opened some eyes and will certainly
play. Jeb Blazevich and Jay Rome are also expected to get plenty of
opportunities catching the ball as Schottenheimer has always favored using tight
ends.
Meanwhile, ULM's defense is once again expected to be the strength of the team.
The Warhawks are led by nose guard Gerrand Johnson who is just one of six
players in the FBS to have tallied 200 or more tackles in a career and 20 or
more tackles for loss. Johnson is also the only player from the Sun Belt
Conference on the list and he is also the only defensive linemen to make up the
group of six.
The Warhawks are also adept at getting to the quarterback. Last year ULM
tallied 36 sacks, the most for the program since in joined the Sun Belt in 2009. Slowing down the ULM pass rush will be the responsibly of a
veteran Bulldog offensive line, featuring preseason All-SEC pick John Theus and
junior Brandon Kublanow who will be making his first career start at center.
Key Georgia offensive players: QB Greyson Lambert, RB Nick Chubb, RB Sony Michel, WR
Malcolm Mitchell, TE Jeb Blazevich, LT John Theus.
Key ULM defenders: NT Gerrand Johnson, DE Lorenzo Jackson, LB Michael
Johnson, S Justin Backus.

UGA DEFENSE vs. ULM OFFENSE
Defensive coordinator Jeremy Pruitt warned reporters on Wednesday that the
Bulldogs are still going to be plenty young this fall. While that's true,
Georgia is loaded with talent, especially at the outside linebacker position. Leonard Floyd,
Jordan Jenkins and Lorenzo Carter could well be the best trio of outside linebackers
in the conference. The Bulldogs have already indicated that they plan to use
Floyd in a number of roles, including inside linebacker and Star in Nickel
situations.
Their challenge will be a simple one, try to contain redshirt freshman
quarterback Garrett Smith who will be making his first career start for the
Warhawks.
As a team, ULM enters the season with 340 receptions, the 12th-most among FBS
schools. ULM features a pair of very capable receivers in junior Ajalen Holley
and senior Rashon Ceaser, the latter of which has caught a pass in 31 consecutive
games.
The two wideouts figure to be a nice opening day challenge for the Bulldog secondary,
a group which features four true freshmen as backups at both corner and safety
positions. Although the talent is there, young defensive backs can sometimes
prove unpredictable so Pruitt will depend on safeties Quincy Mauger and Dominick
Sanders to keep everyone's play - and emotion - under control.
Up front, assistant coach Tracy Rocker has been busy whipping his defensive line
into shape, hoping to ensure Georgia's run defense can prove more consistent
than it was last year. Physically, Rocker is very pleased with the players he
has work with, although he laments his overall youth. Still, if Georgia's
defensive line is going to be as good as its coach hopes, the Bulldogs will need
freshmen Trenton Thompson to live up to at least some of his five-star hype.
Meanwhile, one big change for ULM is that head coach Todd Berry is taking over
the play-calling, and he hopes that the return of running back DeVontae McNeal
will help jumpstart a running game that was basically non-existent last fall.
Key Georgia defenders: Chris Mayes, Leonard Floyd, Jordan
Jenkins, Lorenzo Carter, Dominick Sanders, Quincy Mauger.
Key ULM offensive players: QB Garrett Smith, RB DeVontae McNeal, WR Ajalen
Holley WR Rashon Ceaser, LT Rey Baltazar.

INJURY UPDATE
Bulldog freshman DL Jonathan Ledbetter is questionable after missing much of
practice with an injured leg, as is middle linebacker Reggie Carter, who
according to Richt, is dealing with a sore shoulder.

[rl]
DID YOU KNOW?
ULM is the alma mater of Willie Robertson, the CEO of Duck Commander and star of
the reality TV show Duck Dynasty.
Jeremy Pruitt is 0-1 against ULM. In 2007, Pruitt was a member of the staff at
Alabama which was upset by the Warhawks in 2007.
The Warhawks are one of only six teams in the FBS that will not play consecutive
games at home all year. In fact, ULM will only play at home five times this
season.

SYNOPSIS
The Warhawks are certainly no strangers to playing teams from the SEC. Last
year, ULM traveled to LSU, Kentucky and Texas A&M, barely losing to the Aggies
21-16. After playing Georgia, Berry's squad will travel two weeks later to
Tuscaloosa to play Alabama. But while the majority of ULM's players have danced
on the big stage, this will be the first go-around for Smith, the Warhawks'
redshirt freshman quarterback. The Bulldogs can certainly make their afternoon
easier by flustering the youngster, which no doubt Floyd and company will
attempt to do. But defensively is where ULM could have its biggest problem. The Warhawks are looking forward to testing their mettle against Chubb in an effort
to stop the Heisman Trophy candidate. So far, no one has. As we mentioned
earlier, all eight of Chubb's starts have resulted in games of over 100 yards.
He'll make it nine as the Bulldogs get their season off to a winning start.

PREDICTION:
Georgia 38, Louisiana at Monroe 7