Boise in the Dome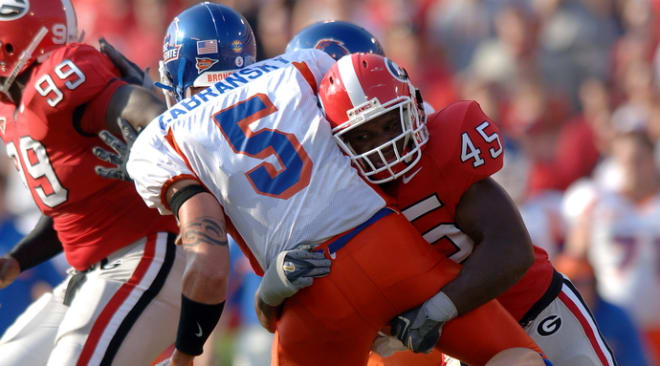 Could Georgia and Boise State open the 2011 season against each other in the Georgia Dome?
That appears to be the case.
Sources tell UGASports that an agreement has been reached which will match the Bulldogs and Broncos in next year's opener as part of the Chick-fil-A Kickoff Classic.
The game would be televised by ESPN.
When asked about the possibility Thursday afternoon, Bulldog athletic director Greg McGarity wouldn't say.
"No comment," McGarity said. Head coach
Mark Richt
also declined comment after Thursday's practice, although Friday UGA officials announced that there will be a teleconference to announce a change to the Bulldogs' 2011 schedule.
Sources say the game would take place Sept. 3, but the Bulldogs are slated to open next year against Louisville, meaning Georgia would have to get out of its contract against the Cardinals in order for the game against Boise to occur.
McGarity said neither he nor anyone with UGA have had conversations with Louisville officials about a potential buyout or moving next year's game.
Georgia is scheduled to play at Louisville on Sept. 15, 2012.
Should the Bulldogs and Broncos meet, it will mark the second game between the programs.
The two teams opened the 2005 season against each other in Sanford Stadium with Georgia taking a 48-13 win.
Sources further tell UGASports that if an agreement is reached, it would probably come within the next week.
Georgia would not make a return trip to Boise as part of any negotiated deal.
Boise State is currently scheduled to play at Ole Miss on Sept. 3, but Rebel athletic director Pete Boone tweeted that the school would have a "big football announcement." Later, he posted "Sorry about the delay announcing future football's future schedule. A lot of moving parts and ESPN has a few loose ends."