What We Learned: Marquette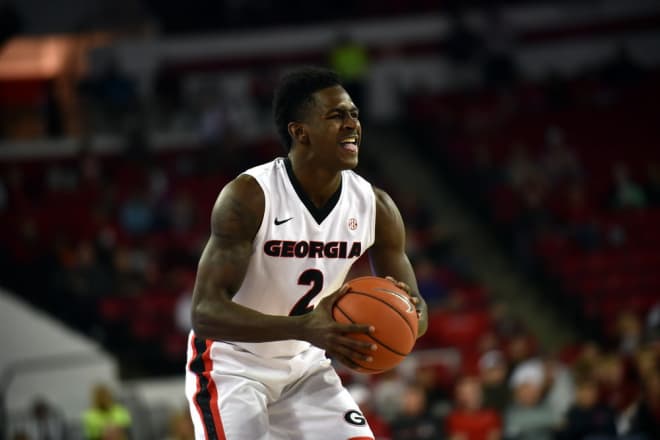 Georgia failed to cash in on another opportunity to build its NCAA Tournament resume, falling to Big East foe Marquette, 89-79.
The Bulldogs now enter a 10-day hiatus for final exams, and the team will have many teaching points throughout the practice period.
Here are five things we learned in Georgia's loss.
Frazier finds stroke - One of Georgia's leading scorers, senior guard J.J. Frazier, has broken out of his mini-slump. Against Kansas, Frazier only collected two points on a 1-for-10 shooting performance. The woes continued throughout the next two games for Frazier, with not having much offensive impact in victories against Gardner-Webb and Morehouse. However, he found his stroke again on Sunday, shooting 4-6 from behind the arc and tallying 22 points. Without a third scorer present on a nightly basis, Frazier had to join his teammate Yante Maten in the scoring party in order for the Bulldogs to have any chance of pulling out a victory.
Perimeter defense serves as downfall yet again – Georgia has had issues with containing its opposition from the 3-point line, but it had not proven to be too costly on most occasions. The story was different this afternoon, as the Golden Eagles' offensive gameplan was centered around the deep ball. Marquette converted 13 times on 29 attempts from behind the arc including 8-of-10 in the first half.
"They've been averaging about 28 points per game from the 3-point line, so we fully anticipated them (shooting a lot of threes)," head coach Mark Fox said. "We knew it was important to defend it, we just didn't do it. We watched a couple guys shoot from deep range, and you have to get a hand up and contest it."
Marquette was unafraid to shoot from deep, and one of Georgia's true weaknesses looks to have been exposed. The Bulldogs will want to make this a primary area of focus during the time off.
Georgia beat handily on glass – In the first five games of the season, Georgia outrebounded each of its opponents. That wasn't the case on Sunday. Marquette dominated the glass against the Bulldogs, with a 42-31 advantage, including collecting seven more rebounds than Georgia on the offensive end. After hesitating, Maten was clear cut in explaining the deficiencies down low.
"Rebounds are just about coming out, playing harder and getting in position," he said.
With frontcourts with more size than Marquette's that lie ahead, especially in conference play, the corps down low for Georgia will need to improve to find success.
Momentum changes rapidly – Sunday's game truly showed what Georgia has been in the early season - Georgia got down early, came roaring back and looking as if it had a chance, then a miscue allows that swing of momentum to fade and cost the Bulldogs a significant victory. With the upperclassmen leading this group, Georgia will look to complete the comeback efforts and have one final swing of momentum go the Bulldogs way in the final stages of a game.
Jordan Harris held out of significant action – Freshman guard Jordan Harris had been an integral part of the team's rotation and in important games as well. Since only logging two total minutes in the first two games of the season, Harris had seen double-digit minutes in each game – until tonight. Harris got the nod from Fox early in the first half, and was pulled short thereafter. With Harris having a plus/minus of -7, Fox was direct in explaining why he was pulled.
"Jordan had key errors and those were costly," he said in conclusion of the press conference.